We offer a range of courses to start you on your crochet journey or give you confidence to take bigger steps.

 Beginner's Crochet Workshops
If you are at the start of your crochet journey then here is the right place to start.
Held in various locations around Leicestershire and Bedfordshire now Online via Zoom, our beginner's crochet workshops assume no knowledge at all and will help you learn to hold and manipulate the hook and yarn, make your first stitches and then follow a pattern, normally a granny square. Over either 2 Saturday mornings or 4 shorter evenings, practice is essential to master the craft.
There are always plenty of giggles, nice tea, decent coffee and a cosy, warm atmosphere. Numbers are small so there is plenty of 1:1 attention. There is a Facebook online support group which contains videos to help.
1:1 Tuition
If groups are not your thing, then we offer 1:1 sessions at a time convenient to you. You can either take your first steps or work on a specific technique. To find out more, please contact us.
Learn to Knit
We also offer knitting workshops to understand the fundamentals of knitting. These workshops, usually over 2 evenings or weekends will help you learn to cast on, bind off, knit, purl, rib, increase and decrease.  Keep an eye on the Workshop page for the next date.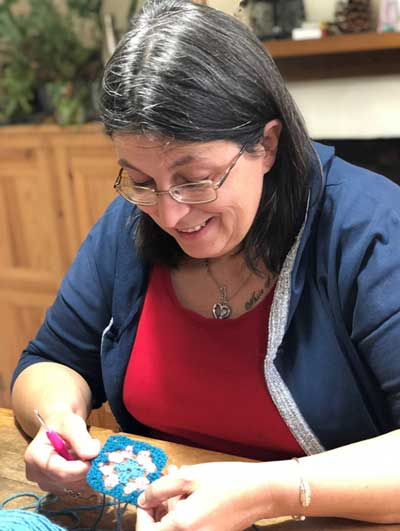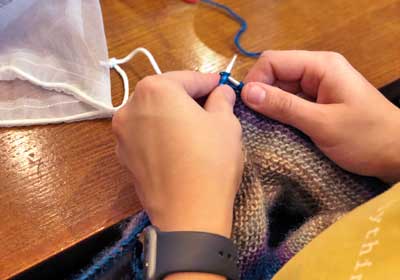 Morning or Evening Workshops
Most of these workshops are suitable for those with basic crochet skills, and by basic we mean you need to be able to make a granny square!
There are all sorts of workshops from making Cutie Creatures to chart reading and seasonal makes like Christmas garlands or Plumptious Pumpkins. All offer a warm welcome, great tuition and lots of laughs.
Workshops can also be a great way to meet other like-minded people, gain a bit of crochet confidence and improve those skills.